RSS
Up to 4 displays on a Single Card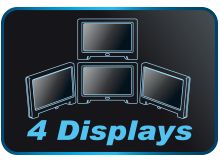 Support up to four displays on a single card. Satisfy your multi-screen setup, high definition and extreme gaming experience.
Support 4K @ 60Hz Via Two HDMI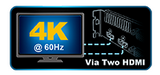 Current graphic cards do not support HDMI v2.0 specification, it is required to use two HDMI v1.4 output to support Ultra HD resolution - 4096x2160@60Hz. With a monitor features HDMI Dual mode, users can experience an impressive 4K HD enjoyment with the latest technological advancements!
Ultra Durable 2

Ultra Cooling - Low RDS(on) MOSFET Design

Low Power Loss - Ferrite Core Choke Design

Longer Life - All-Solid Capacitor Design
WindForce 2X Anti-turbulence-Parallel inclined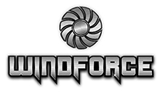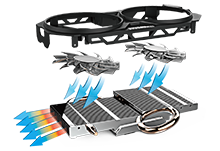 WINDFORCE™ 2X parallel-inclined fin design is equipped with 2 ultra quiet PWM fans and copper heat pipe to enlarge air channel on the graphics card vents and creates a more effective airflow system in chassis.
OC GURU ll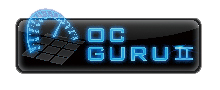 Brand-new instinctive user interface, easier to monitoring and adjusting all important settings. Users can set up MONITORING, GPU CLOCK, MEMORY CLOCK, FAN, GPU VOLTAGE, Memory VOLTAGE, OSD, ONLINE SUPPORT and update driver, BIOS directly.
Gold plated HDMI
Gold plated, durable large contact area connectors have been used for optimum signal transfer between connections

* Zamieszczony materiał został udostępniony jedynie w celach informacyjnych. GIGABYTE zastrzega sobie prawo do wprowadzania zmian w specyfikacji produktu i udostępnionych informacji o produkcie bez wcześniejszego powiadomienia.
* Przedstawiane dane są oparte na maksymalnych teoretycznych wydajnościach przedstawionym przez producentów chipsetów lub organizacji określających zakres tych specyfikacji. Rzeczywista wydajność może się różnić w zależności od konfiguracji systemu.
* Wszystkie znaki towarowe są własnością ich właścicieli.
* Z uwagi na budowę systemu, zakres pamięci może się różnić.