RSS
Wprowadzenie
Based on the Intel® X58 chipset, the GIGABYTE motherboard delivers all the killer next generation features that gaming enthusiasts and power users have been waiting for including GIGABYTE's 333 Onboard Acceleration features with support for USB 3.0, Serial-ATA Revision 3.0 (6Gbps) and a 3x USB Power Boost, as well as multi-GPU support for NVIDIA 3-Way SLI™ and ATI CrossFireX™ and support for Intel's upcoming 32nm high performance processors offering a high level of future CPU headroom for users wanting to maintain cutting-edge levels of performance. With the memory controller integrated directly into the processor die, the GIGABYTE motherboard also supports triple channel DDR3 memory for blazing fast memory performance.
Ultra Durable 3
GIGABYTE Ultra Durable 3 design, featuring 2 ounces of copper for both the Power and Ground layers which dramatically lowers system temperature by delivering a more efficient spreading of heat from critical areas of the motherboard such as the CPU power zone throughout the entire PCB. GIGABYTE's Ultra Durable 3 also lowers the PCB impedance by 50%, which helps to reduce electrical waste and further lowers component temperatures. A 2oz Copper layer design also provides improved signal quality and lower EMI (Electromagnetic Interference), providing better system stability and allowing for greater margins for overclocking...
more
The Overclocker Names GIGABYTE Motherboards Top in Power Efficiency and Performance

"Gigabyte puts "durable" in the name of the motherboard and has designed its systems for higher efficiency to keep temperatures down. At 24 phases, the Gigabyte X58A-UD7 had the highest efficiency at overclocked current levels of 100A and above"
"The best overclocking board, the Gigabyte X58A-UD5 turned out to be more stable with our processor at the highest speed measured, allowing for a 4.426GHz clock with air cooling. Overall, this board had a good showing in the transient testing, one of the highest efficiencies over the whole useful range, and gave the best overclocking results, so it is the clear winner of this test." To see issue 9 of the overclocker,
please visit: (page 12-33):
THE OVERCLOCKER MAG
Get Ready to Unleash the Power of 32nm 6 Core CPUs

GIGABYTE's entire line of X58-based motherboards are ready to support the new generation of Intel 32nm 6-core processors, delivering the very best platform for multitasking, multimedia and high performance gaming.
Intel® Core™ i7 Processor and X58 Chipset support

This motherboard was designed specifically to take advantage of the raw power of the next generation Intel® Core™ i7 processors and the Intel® X58 Express chipset, whose new evolution in computing architecture is able to deliver an amazing performance break through from past processor generations. Replacing the Front Side Bus is the new Quick Path Interconnect, or QPI, whose 25.6 GB/sec transfer rate (double the bandwidth of the 1600MHz FSB) eliminates the communication bottleneck between the processor and chipset.
QPI , QuickPath Interconnect

Replacing the role of FSB

Intel uses the QPI to connect internal components of Core™ i7 processors , and to connect the CPU itself to the Northbridge and banks of memory.
QPI delivers:
Up to 25.6GB/sec of bandwidth between Core™ i7 processors and the rest of the system,providing exactly double the bandwidth of 1600 Hz FSB
Integrated Memory Controller

Intel® Core™ i7 Processors feature triple channel DDR3 support
Intel Core™ i7 processors feature the memory controller integrated directly into the processor die, rather than as part of the Northbridge as in previous generations, allowing for faster memory performance. Core™ i7 processors also provide additional memory support including.
Technologia On/Off Charge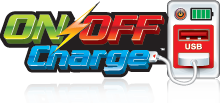 Technologia GIGABYTE On/Off Charge pozwala na ładowanie iPhone, iPad oraz iPod Touch bez względu na to czy twój PC jest włączony czy wyłączony. Pochodząca od entuzjastycznie przyjętej technologii 3x USB Power, On/Off Charge pozwala na uzyskanie większej mocy z portów USB niż standardowo, tak aby ładowanie poprzez PC było tak szybkie jak przy użyciu ładowarki...
więcej
Uwaga: Ze względu na ograniczenia w niektórych telefonach komórkowych, możliwa jest konieczność podłączenia telefonu do systemu PC zanim przejdzie on w tryb S4/S5 pozwalający na szybkie ładowanie za pomocą portów USB z funkcją On/Off Charge. Czas ładowania może się różnić w zależności od modelu
*Wsparcie 3X USB power może zależeć od modelu.

Wsparcie dla USB 3.0
Płyty główne GIGABYTE z USB 3.0 wyznaczają nowy standard wydajności umożliwiając niewiarygodnie szybki transfer danych. Wbudowany kontroler USB 3.0 zapewnia 10-krotnie szybsze przesyłanie danych w porównaniu ze standardem USB 2.0. Dzięki możliwości przesyłania danych z niespotykaną dotąd szybkością, płyty główne GIGABYTE z interfejsem USB 3.0 są doskonałą podstawą do budowy bardzo wydajnych komputerów przyszłości. Kompatybilność z USB 2.0 zapewnia długie użytkowanie posiadanych urządzeń. Wbudowana technologia SuperSpeed USB 3.0 udostępnia także nowe funkcje zarządzania energią.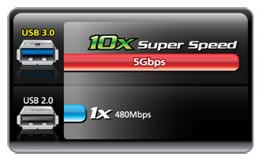 * USB 3.0 10x to maksymalna wartość teoretyczna. Rzeczywista wydajność może różnić się w zależności od konfiguracji systemu.
3x USB Power Boost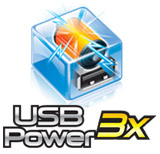 Technologia GIGABYTE 3x USB Power Boost zapewnia lepszą kompatybilność z urządzeniami na USB o dużym zapotrzebowaniu energetycznym. 3x USB Power Boost gwarantuje ponadto niższą rezystancję, mniejsze wahania napięcia a przez to znacznie lepszą stabilność pracy urządzeń zewnętrznych.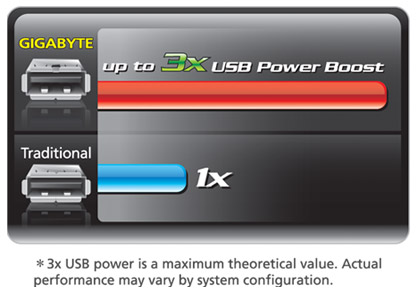 Dolby Home Theater® - Enjoy a Rich Home Theater Surround Sound Experience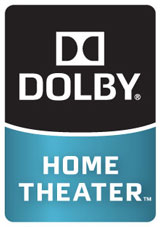 Dolby Home Theater
®
places listeners in the middle of the action, giving their PCs a powerful set of tools to deliver a cinema-style experience in vivid surround sound.
Delivers vivid surround sound for music, movies, and games, using two to eight speakers or any set of headphones
Designed to automatically deliver the best possible listening experience
2 Gigabit LAN


Duża prędkość 2X większa szerokość pasma

SATA 6 Gbps Support

Yet another onboard feature of GIGABYTE motherboards are Marvell's SE9128 chips for high-speed SATA Revision 3.0 compatibility, delivering superfast 6Gbps link speeds for twice the data transfer rates of SATA Revision 2.0 (3 Gbps). When used in RAID 0 (Stripe) mode, GIGABYTE motherboards offer even faster data transfer rates of up to 4x the speed of current SATA interfaces.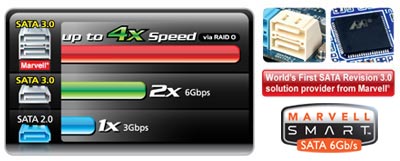 * SATA3 RAID 0 4X performance is a maximum theoretical value. Actual performance may vary by system configuration.
* SATA3 SSDs are not recommended for use in RAID 0 mode on Marvell SE9128 ports.
Multi-display support with 3 way CrossFireX and 3 way SLI™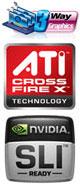 Flexible graphics capabilities - Up to 3 VGA cards are supported for either 3 way CrossFireX™ or 3 way SLI™ action, delivering the ultimate in graphics performance for gaming enthusiasts who demand the highest frame rates without compromising on resolution.

Wsparcie ErP Lot 6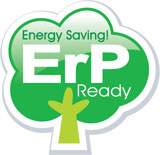 Dyrektywa ErP (Energy-related Products) jest częścią nowych regulacji Unii Europejskiej związanych z ochroną środowiska. Ma ona bezpośredni związek z intensywnym rozwojem rynku urządzeń elektronicznych i jego wpływem na środowisko naturalne. Celem ErP jest ustanowienie nowych standardów wydajności energetycznej w celu zredukowania zużycia energii elektrycznej. GIGABYTE prezentuje płyty główne, które skutecznie zwiększają wydajność systemu oraz są bardziej energooszczędne.
Qualified for Windows® 7 WHQL
The motherboard has obtained WHQL (Windows Hardware Quality Labs) certification for Windows 7 from Microsoft
®
for an Intel-based motherboard, setting the standard for future Windows 7 certified motherboards...
more
Hybrid Silent-Pipe 2


The motherboard now features the revolutionary new GIGABYTE Hybrid Silent-Pipe 2, a fusion thermal solution that combines GIGABYTE's proprietary screen cooling technology, external heat sink and liquid cooling with chipset water block to deliver maximum thermal performance.
Unique Screen Cooling thermal design effectively reduces the temperature around the CPU zone, and removes the heat between NB and SB area.
Liquid Cooling system featuring special waterblock design with an enlarged dissipating surface area for enhanced heat dissipation and optimum flow-rate.
High-Precision die forming technology utilized to increase the thermal conductivity of the material that makes up the heat sink.
High performance Copper Heat Pipe with sintered process designed for ultra efficient thermal conductivity.
External Heat Sink design utilizing a convection slot at the back of the chassis to increase thermal dissipation.
2X Niższa Impedancja

W dodatku, podwojenie ilości miedzi obniża impedancję na płytce PCB o 50%. Impedancja jest miernikiem wskazującym stopień utrudnienia w przepływie prądu w obwodzie. Im mniejsze są utrudnienia w przepływie prądu, tym mniejsze są straty energii. W przypadku płyt głównych GIGABYTE Ultra Durable 3 oznacza 50% spadek strat energii na płytce PCB, co skutkuje także znacznym ograniczeniem wydzielania ciepła. 2 miedziane warstwy zapewniają również lepszą jakość sygnału, poprawia to stabilność systemu i daje większe możliwości overclockingu.
Szybki i łatwy overclocking za pomocą jednego kliknięcia


Gigabyte Quick Boost przewiduje 3 poziomy pracy procesora; proste kliknięcie w odpowiedni poziom pracy zapewnia szybki i wygodny overclocking zarówno początkującym jak i doświadczonym użytkownikom.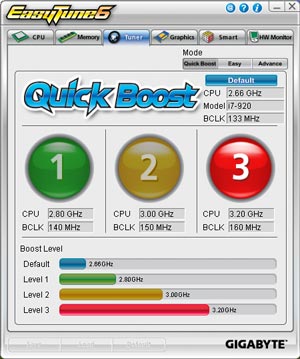 DualBIOS™ - Opatentowana, sprzętowa ochrona Biosu


DualBIOS™ jest opatentowaną przez firmę GIGABYTE technologią pozwalającą automatycznie odzyskać uszkodzony BIOS z zapasowej kości. Pozwala to na szybkie i bezproblemowe przywrócenie operatywności systemowi, nawet w przypadku uszkodzenia BIOSu powstałego w wyniku błędnej aktualizacji lub działania wirusa.
Dynamic Energy Saver™ 2
GIGABYTE Dynamic Energy Saver™ 2 incorporates a host of intelligent features that use a proprietary hardware and software design to considerably enhance PC system energy efficiency, Reduce power consumption and deliver optimized auto-phase-switching for the CPU, Memory, Chipset, VGA, HDD, and fans with a simple click of button.
24 phase power - World's Best Phase Power Design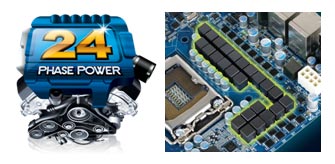 Industry's First 24 Phase Power VRM Design
GIGABYTE's cutting edge 24 phase power VRM design utilizes the highest caliber components to provide unadulterated, smooth power delivery for the CPU. Like a high performance sports car engine, GIGABYTE's 24 phase power design enables the best delivery of power to supercharge your system, giving extreme users unparalleled overclocking ability and the lowest temperatures to reach maximum performance levels.
The innovative 24 phase power VRM has been designed and engineered to deliver fast transient response times through quick and seamless power delivery during extensive CPU loading variations. In addition, heat from the VRM is effectively reduced by spreading the load between the 24 power phases, resulting in a cooler and more stable platform.
Intel Turbo Boost Technology

Dynamically reroutes power to improve performance For situations when all cores are not needed for a particular workload, Intel Turbo Boost Technology powers down the idle cores and dynamically reroutes the power to the active cores, boosting their performance without wasting power. This allows the active cores to achieve significant overclocks.
bardzo widoczny wyświetlacz pokazjący błędy kodów POST

An onboard Debug LED (Embedded post code LED display) simplifies motherboard signals and indicates system status.
OV-Alert LED

Składa się z 4 zestawów wskaźników monitorujących poziom pracy CPU, pamięci, NB i SB by zapobiec uszkodzeniu komponentów.
Visible Overclocking Reminder

OC-Alert LED indicates the level of CPU overclock from low to high.
Visible Temperature Reminder

Two sets of Temperature Alert LEDs indicate the current temperature level of the CPU and North Bridge
Szybkie przełączniki na płycie
Włącznik płyty na tylnym panelu, Clear CMOS i Reset pozwalają na szybkie i łatwe podkręcanie dla zaawansowanych użytkowników.
XHD (eXtreme HardDrive) - Accelerating hard drive performance with ease
Accelerating system performance is made easy with the user friendly GIGABYTE eXtreme Hard Drive (X.H.D). GIGABYTE eXtreme Hard Drive (X.H.D) provides a quick and easy way to boost your hard drive performance simply by adding another hard drive.
Cloud OC

GIGABYTE Cloud OC to darmowa aplikacja, która ułatwia podkręcanie komputera poprzez urządzenia obsługujące przeglądarki internetowe, takie jak smartfon, iPad, Iphone, netboo czy notebook. Dzięki funkcji przeglądarki urządzenie łączy się z PC poprzez internet, Bluetooth czy ethernet, jego funkcje podzielone są na 3 grupy: Tuner, Informacja o Systemie, Sterowanie...więcej

Hotkey OC

GIGABYTE Hotkey OC allows users to create and save various profiles that can be adopted for different benchmarks. Hotkey OC then allows users to jump between these profiles on the fly so that the best profile for each segment within the benchmark can be used to optimize scores and boost overall performance. So, for example, when running 3DMark 06, the 1st profile might be optimized for graphics and can be used for the first two graphics tests, then, the next two tests can utilize the 2nd profile which might be optimized for CPU tests, and one could jump back to the 1st profile again for the final two graphics (shader) tests...
more

Benefits of 2 oz Copper PCB

• Cooler than traditional motherboards
• Enhanced durability
• Improved energy efficiency
• Greater margins for overclocking...
more
Hardware OverVoltage Control IC - Enabling Extreme Overclocking

GIGABYTE Hardware Overvoltage Control ICs featuring more voltage control options than before for the CPU North Bridge and memory. The overvoltage controllers also provide hardware linear real-time voltage control, which means there is no delay compared to the GPIO controller in past implementations. In addition, GIGABYTE's Hardware Overvoltage Controller ICs also allow for much finer voltage control, allowing power users to adjust voltage in as little increments as 20mV for better overclocking performance.
EasyTune6
EasyTune™ 6 ułatwia monitorowanie i zarządzanie zasobami sprzętowymi oraz umożliwia dostrojenie ustawień w celu osiągnięcia maksymalnej wydajności. Bez względu na to, czy jesteś entuzjastą overclockingu, czy też mniej zaawansowanym użytkownikiem komputera, EasyTune6 zapewni Ci niezbędne narzędzia, by szybko i bez wysiłku podnieść wydajność systemu.
Zalety z zastosowania japońskich kondensatorów aluminiowo-polimerowych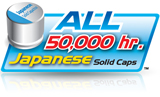 Płyty główne GIGABYTE z serii Ultra Durable 3 są wyposażone w najlepsze kondensatory aluminiowo - polimerowe zaprojektowane przez japońskich inżynierów. Dzięki gwarancji średniego czasu bezawaryjnej pracy sięgającego do 50,000 godzin kondensatory te umożliwiają stabilne i długowieczne funkcjonowanie systemu. Spełniają dzięki temu wysokie wymagania stawiane przez najnowocześniejsze procesory, aplikacje i gry...
więcej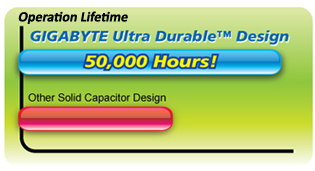 * 50000 -godzinny czas pracy został oszacowany przy 85℃ temperaturze otoczenia.
Smart 6 – Łatwiejsze zarządzanie systemem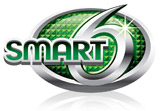 Narzędzie GIGABYTE Smart 6™ zostało zaprojektowane z myślą o łatwości obsługi i oferuje kombinację 6 nowoczesnych narzędzi programistycznych, które zapewniają łatwiejsze i lepsze zarządzanie systemem. Smart 6™ pozwala na polepszenie wydajności, zredukowanie czasu startu systemu, zapewnienie bezpieczeństwa i łatwego przywrócenia poprzednich ustawień dzięki jednemu kliknięciu.

Smart QuickBoot
Przyspiesza uruchamianie komputera


Smart DualBIOS


Podwójna ochrona sprzętowa i przechowywanie haseł

Smart QuickBoost

*


Łatwy i szybki overclocking

Smart Recorder


Monitorowanie i nagrywanie ważnych czynności

Smart Recovery


Łatwy powrót do poprzednich ustawień i odzyskanie danych

Smart TimeLock


Kontroler czasu dostępu do komputera
* Dostępność narzędzia SMART QuickBoost jest zależna od modelu płyty.
AutoGreen- Ekologiczny PC dzięki telefonom z Bluetooth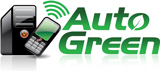 Technologia AutoGreen automatycznie oszczędza za Ciebie energię, kiedy jesteś z dala od swojego komputera, dzięki funkcji bluetooth w Twoim telefonie.
Uwaga: Płyty główne GIGABYTE nie są wyposażone w odbiornik Bluetooth® ; wymagany jestdodatkowy odbiornik.
* Zamieszczony materiał został udostępniony jedynie w celach informacyjnych. GIGABYTE zastrzega sobie prawo do wprowadzania zmian w specyfikacji produktu i udostępnionych informacji o produkcie bez wcześniejszego powiadomienia.
* Przedstawiane dane są oparte na maksymalnych teoretycznych wydajnościach przedstawionym przez producentów chipsetów lub organizacji określających zakres tych specyfikacji. Rzeczywista wydajność może się różnić w zależności od konfiguracji systemu.
* Wszystkie znaki towarowe są własnością ich właścicieli.
* Z uwagi na budowę systemu, zakres pamięci może się różnić.