GIGABYTE officially announced the latest EZ Smart Response utility that allows users to install Intel® Smart Response Technology with the click of a mouse, even if their system is set to IDE mode, without having to reinstall their Windows operating system.

"One of the key benefits of GIGABYTE's new Z68 Express chipset enabled motherboards is support for Intel's Smart Response Technology, which delivers an exceptional performance boost for our customers," commented Henry Kao, VP of Worldwide Sales and Marketing at GIGABYTE. "We hope that the majority of our customers enable this technology, and therefore we have developed our own unique EZ Smart Response utility that allows users to effortlessly set up Intel Smart Response technology so they can quickly experience the all performance benefits it has to offer."


Watch the HD Movie


GIGABYTE is once again leading the industry for their support of Intel® Smart Response Technology with the recent announcement of the world's first range of Z68 mSATA enabled motherboards as well as the soon-to-be available GIGABYTE Z68XP-UD3-iSSD motherboard that comes pre-bundled with the 20GB Intel® SSD 311 Series. With the launch of the EZ Smart Response utility, GIGABYTE is the only motherboard manufacturer to give their customers, whether using a standard SSD or onboard mSATA, the ability to quickly set up and install Intel® Smart Response technology with the simple click of a mouse.
About GIGABYTE EZ Smart Response
GIGABYTE narzędzie EZ odpowiedzi Smart jest prosta aplikacja, która pozwala użytkownikom szybko i łatwo skonfigurować system Intel®Smart Technologia odpowiedzi. W przeszłości, dzięki czemu Intel®Smart Response oznaczało użytkowników potrzebne, aby wejść do BIOS-u, aby skonfigurować system w trybie RAID, które następnie wymagane całkowitą reinstalację systemu operacyjnego. Po tym procesie był kompletny, użytkownicy potrzebnych do zainstalowania Intel®Rapid Utility Storage jak skonfigurować inteligentną technologią Intel odpowiedzi. GIGABYTE EZ odpowiedzi inteligentne to wszystko ma się automatycznie, bez użytkowników konieczności wykonywania skomplikowanego procesu instalacji.
To pozwala im szybko i bez wysiłku cieszyć się znaczne zwiększenie wydajności systemu.
Intel® Smart Response Technology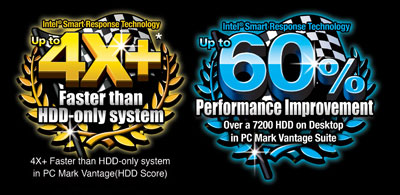 GIGABYTE Z68 series motherboards are equipped with the much anticipated Intel
®
Smart Response Technology, allowing users to experience system performance similar to SSD only systems. Intel
®
Smart Response technology works by using intelligent block-based caching of frequently used applications to improve system performance and responsiveness. In fact, GIGABYTE Z68 motherboards with Intel
®
Smart Response Technology are able to outperform hybrid drive systems by more than 2X (PC Mark Vantage HDD test) and HDD-only systems by as much as 4X (PC Mark Vantage HDD test) and deliver a 60% performance improvement over HDD-only systems in PC Mark Vantage Suite.
To see the GIGABYTE EZ Smart Response utility in action, please visit:
http://www.youtube.com/user/MoboTV2010#p/a/u/0/yHhCIv8GdRg


To see more about EZ Smart Response model list, please visit micro site